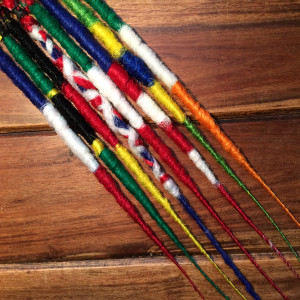 We've been having an uncommonly chilly and soggy winter here at the Petting Zoo, so I've been spending more time inside than I'm used to. To keep myself from getting cabin fever, I've been cranking out dreadlocks to offer up on Etsy. Of course, I'm never contented to just make "plain old" anything, so I've been testing out some new ideas and processes to come up with dreads nobody has seen before. (Right now I'm working on a PLAID set.)
I've also finished testing to see how well Petting Zoo Wig Dye holds up to steam sealing, and I'm very pleased to report it is rocking it. As a result, I'm now able to make true ombré dreadlocks, instead of just transitionals. This is extra exciting for crochet style dreads, where the process is normally too "knotty" to make ombré dreads with gradient fiber.
Folks can also use my dye to change the color of their dreads after they've been sealed, by dip-dyeing them, then setting in the color with hot air: the new color stays even through a steam re-sealing.
YAY FOR SCIENCE!