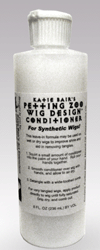 Petting Zoo Wig Conditioner – 8oz – $5.25

This is the same formula used in the studio to help detangle and add shine to wigs. (And it smells pretty too!)
Also use this after dyeing a wig to make it softer, and to better protect the color from harsh styling products.